You can record sound in many ways - using the computer's internal microphone, an external microphone, a miniDisc, an MP3 recorder, digital video camera, even some mobile phones record sound.
To record good quality sound you need a good quality microphone.

For everything you've ever wanted to know about microphones have a look at this comprehensive website by Professor S.O. Coutant. Coutant.org lists almost every microphone every invented, particularly the older style mics and you can listen to a sample of all the different mics here.
USB headsets
| | |
| --- | --- |
| USB headsets are a great way to record voice narration directly into your computer. For less than $50 you can achieve good quality and easy voice recordings. Usually you just have to plug in the headset and the computer will recognise and change your sound settings accordingly. | |
Some MP3 players have built-in voice recorders which record sound directly into the player and can be uploaded onto your computer through a USB connection.
iPods with a microphone attachment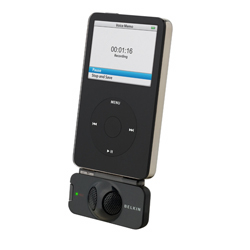 New generation iPods can also record sound with an attachment (such as the Belkin mic attachment pictured) for around $75. The sound is recorded and can be uploaded and converted to mp3s using iTunes.
Digital video cameras
| | |
| --- | --- |
| Using a digital video camera is another way to get quality sound recording, especially if you use a good external microphone. If you are recording sound for a video project it makes sense to use a video camera and capture the sound to your computer with your video footage. | |