The planning stage of digital story telling includes writing your story, planning how the sound and images will fit together, and organizing your assets.
Writing your story
Everyone has a story to tell. Think about the things that are most important to you. It may be the people in your life, the activities you enjoy or a childhood experience you want to tell. It could be a serious story or a funny story. The most important thing in the story telling process is choosing a story that you are personally interested in telling.
Once you know what your story is about its time to start writing. Give yourself a time limit and don't judge your first draft. Just be honest and write down what the story is. It may help to say the story aloud to a friend and record it as you speak. You can then use the recording to write down what you said and go from there.
An honest conversational style is usually the best form for a digital story. Be prepared to edit and re-write your story. You want the heart or essence of the story so don't worry about too many details or facts. Keep it brief and entertaining.
All good stories have a beginning, middle and an end. Ensure that your own story uses this structure. 
Click the icon to see a video on planning your digital story.


You can download this storyboard template to use to create your own storyboard.

Storyboard template - PDF

Storyboard template - Word

Once you've written your story, it's time to make a storyboard. Use the storyboard template we have provided for you on this website.

Roughly sketch in the images you have made or chosen, write down the narrative that goes over each photo and include any sound effects or music that the audience will hear. Planning every shot in the early stages will help save you time later.
Folders
Organising your assets is a very important step in digital story making. Setting up a basic folder structure will help you easily locate files during the process. We suggest setting up folders like this.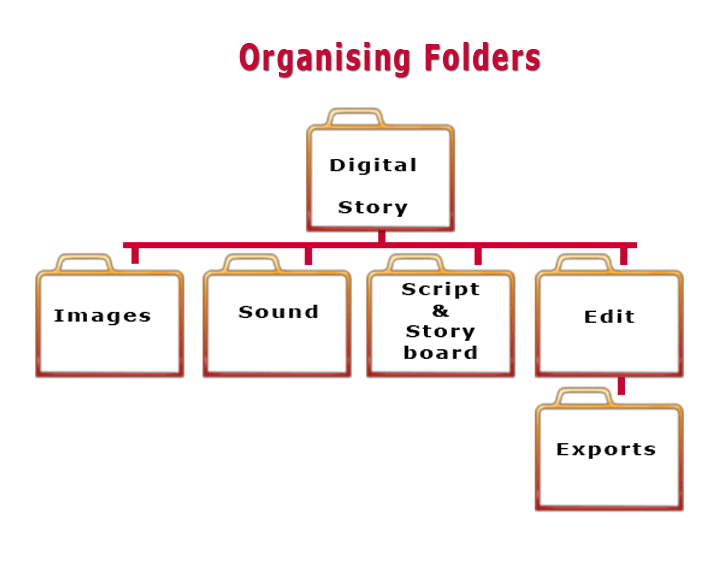 If you have a detailed storyboard, you may also be able to label each photo with the shot number for easy construction.