There are several free sites on the internet for sharing images. One of the most popular image-sharing sites is flickr. The free flickr account limits the total size of images you can upload each month to 100MB. Photos that are too large take up much of your account space and they take a long time to upload. Before uploading images to flickr resize them to be less than 1MB (approximately 300x200 pixels and 72 dpi). For information about resizing images go to the page on Image Editing or watch this GIMP demo.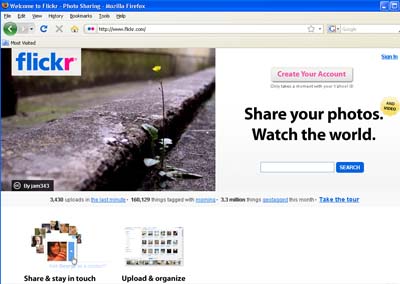 The best way to learn Flickr is to create an account and start using it to upload and share your photos. You can set the privacy so that your images are password protected and only your friends can view them, or you can make them public.
You can also upload powerpoint presentations to flickr however many people prefer to use Slideshare for quickly and easily uploading and sharing powerpoint presentations.
Check out the demos, video, flickr tour and tutorials we have provided here to find out more.
You need to create an account with flickr, then you can start to upload and organise your images. Watch the demo below on setting up a free flickr account.
Click the play button to watch the demo

This is a video demo downloaded from TeacherTube