Multimedia is such a diverse career that it can be applied to a broad range of different jobs. Here are some examples of where you could use multimedia skills in your place or community.
Art centres
Multimedia skills could be used to create and manage an art centre website. Skills such as digital photography and web design could be used to promote local artists and sell their products. Artists may also like to include multimedia skills in the production of digital artworks and incorporate these in works for sale. Print material about the community such as postcards, pamphlets, books, posters and other products could be made and sold.
Learning resource centres and schools
| | |
| --- | --- |
| | Multimedia skills could be used in resource centres and schools to create videos, eduational print material, or internet sites, that benefit the community. For example, recording cultural events, making documentaries, recording traditional languages and stories, creating animations to tell stories, making health education products, posters, booklets, postcards, logos, or community websites. |
Knowledge centres
Multimedia skills could be used in local knowledge centres to take digital photographs, maintain websites and record local stories and language.
 http://www.cdu.edu.au/centres/ik/ikhome.html
Education
There may be opportunities to teach multimedia through school programs, Vocational Eduation & Training (VET) providers and other adult education workshops.
Media centres
Media centres such as the ones at Yuendumu and Yirrkala provide job opportunities in areas such as video production, television shows, web design, radio programs and digital photography.
www.warlpiri.com.au/
http://www.yirrkala.com/
Indigenous festivals
Look out for opportunities at your local indigenous festival. For example the YYF foundation seeks people with multimedia skills to work at the Garma Festival including photography, video production, audio recordings of story and music, training others in multimedia and making contributions to websites.
www.garma.telstra.com/
Tourism
Multimedia skills could be used to promote community tourism (fishing and cultural tours) through the creation and maintenance of websites and advertising print material.
Music
Multimedia can be used to create a website for your local community band. Design CD and DVD covers for albums and video clips.
http://www.skinnyfishmusic.com.au/

Wayne Quillam - Professional Aboriginal photographer

Film, television and radio
Grants
Organizations such as the Northern Territory Film Office, TEABBA and Screen Australia offer grants, courses and mentorship programs to indigenous filmmakers. Information can be found on their websites.
http://www.nt.gov.au/nreta/arts/ntfo/
http://www.teabba.com.au/
http://www.screenaustralia.gov.au/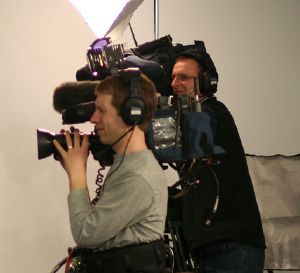 Television
Community television stations such as NITV, CAAMA and Imparja offer opportunities for indigenous filmmakers to present their film and television ideas.
http://nitv.org.au/
http://caama.com.au/
www.imparja.com.au/

Film festivals
State, Territory and international festivals provide the opportunity for filmmakers to enter competitions, have their work screened and win possible awards.
http://www.afc.gov.au/marketingyourfilm/fesdir_17.aspx
www.fistfulloffilms.com.au
Radio
Some communities have a local radio station. Opportunities to record and broadcast various radio programs such as documentaries, current affairs or music programs may be possible.
http://www.cbaa.org.au/
http://caama.com.au/
http://www.teabba.com.au/

| | |
| --- | --- |
| | LInks for jobs and training in the multimedia industries |
| | Watch a video here about working for CAAMA radio in Alice Springs. (Click icon to open) |