Most digital cameras store the photographs onto a memory card inside the camera. If you plan to go on photo shoots where you take a lot of photos at one time, then it is a good idea to have a spare memory card with you in case your first one gets full.
There are 5 types of memory cards:



Compact Flash cards
These are usually found in the larger cameras. They are also often used in other digital equipment like audio recorders. They offer a large storage capacity.

Secure Digital (SD)
These are also found in MP3 players. These cards are small and can fit up to about 2 gigabytes of storage.

Sony Memory Stick
This is used in many Sony products such as digital cameras, video recorders and even laptop computers. This card is really only useful if you have a lot of Sony products.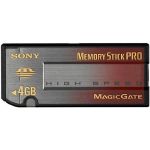 Sony Memory Stick Pro
This is the latest version of the Sony memory card and it has a larger storage capacity.

XD-Picture Card
This is used only in Olympus and Fuji cameras. They are less likely to fit in memory card slots on printers or card readers.
Mobile phone photography
Mobile phone photo technology does away with card readers altogether.
Some mobile phones with cameras allow you to directly email photographs to a website, text them directly to friends, store them on your phone or download them onto your computer.

A lot of people are now choosing to store their photos on the internet via social networking websites such as Facebook http://www.facebook.com. These sites become both a storage device and a public gallery. It gives you the chance to create albums and share them with your friends and the public over the internet.
Devices such as the iPhone incorporate a camera, an iPod, the internet and even a GPS mapping system. The iPhone allows you to sync (automatically join up) the photographs on your phone with your computer  and your iPod. This can be done through wireless technology so there is no need to even physically join up your phone and computer. More and more often, people are choosing to view photographs in a digital format such as their iPod rather than printing their photos.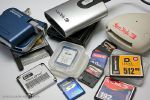 The number of photos you can store on a memory card depends on two things.
The resolution of your camera (how many megapixels)
The size of the photos you are taking
The chart below shows approximately how many photos a memory card will hold.

Memory card capacity

Camera megapixel value

4 MP

5MP

6MP

8MP

1 GB

446

279

265

245

2GB

892

558

531

495

4GB

1784

1116

1062

1000

8GB

3568

2232

2124

2020

Average number of images
Card readers
Once you have taken your photos you will need to transfer them off the memory card and onto your computer. Most digital cameras come with a USB cable that can be plugged directly into a computer's USB port.

Another way to transfer your images is to use a card reader. A card reader is also plugged into your computer using a USB cable.

The benefits of a card reader are:
They can stay plugged into your computer unlike a camera

Most cameras only take one kind of card however some card readers can take all types of memory cards

Using a card reader saves your camera's power so that your batteries last longer
Types of card readers:

Single card reader
These are basic card readers that only take one kind of card
Multi-card reader
These card readers can take up to six different kinds of cards. These can be useful if you have a number of different types of cameras with different memory cards in your community.
Compact readers
These card readers are small and plug straight into your usb port without a cable. They can be useful if you are travelling.